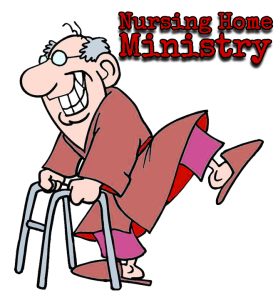 As an award-winning Christian musician, comedian, and dramatist, Barry loves to entertain and minister. For the past twenty-three years, he has lived his dream. Best known for a country comedy featuring "Harvey Tater", Barry uses humor to create a great atmosphere during church services that also reach outside the walls of the church to minister to many who might not otherwise hear the gospel.
As a NASCAR chaplain, Barry volunteered as a shop chaplain for Motor Racing Outreach (MRO) and Todd Bodine. He has also worked with Richard Childress Racing and Richard Petty Motorsports.
Several years ago, God prompted Barry to expand his ministry within the motorsports world. He began providing evangelistic messages at NHRA and NASCAR events. Ordained with Racers for Christ and Raceway Ministries, Barry now presents chapel services for NASCAR as well as several national drag racing (NHRA) events each year.
In addition to being an NHRA and NASCAR Chaplain, Barry has also performed as a platform artist with Prison Fellowship and Chuck Colson sharing God's word through comedy with hundreds of inmates each year. Barry has had the privilege to work with Dr. Tony Evans, Lee Greenwood, Ricky Skaggs, Charlie Daniels, Aaron Neville, and many other celebrity figures.
Much of this ministry to the world of motorsports and prisons is conducted on a volunteer basis. Barry welcomes ministry partners to join him in spreading the gospel and serving in this arena. To witness the powerful gift of sharing The Word with the inmates is a blessing beyond measure.
Barry is thankful for the recognition his ministry has received from several music associations. He has won 13 Christian comedy awards across the country, including awards in Nashville and Pigeon Forge.
 3x Comedian of the Year and 2x Top 5 Finalist for Entertainer of the Year
– ICM (Inspirational Country Music Association) – Nashville, TN
 4x Comedian of the Year
– CGMA (Country Gospel Music Association) – Pigeon Forge, TN
 4x Comedian of the Year
– ICGMA (International Country Gospel Music Association
– West Plains, MO including 2016 Comedian of the Year
 2x Comedian of the year
– Agape Fest – Texas
Our current live musical productions include:
Island of Patmos
Daniel in the Lion's Den
John on the Island of Patmos
David and Goliath – The Battle is the Lord's
Jonah's Journey (Comedy)
Harvey Garvey Tater (Country Comedy)
Johnny Rock – 81 year old rock star (Comedy)
Some of our characters have been televised on the lawn of the Capitol in Washington, DC and we also landed a role in the ABC movie "Target Earth".
Each year, in addition to our numerous prison campaigns and racing events, we do multiple Youth Crusades, Vacation Bible Schools as well as many family church services and nursing home shows.
As a result of how God is blessing this ministry, Barry is now asked to be the keynote speaker at many major functions.